EzPowerBox – Video Buffer, Power Distribution
The ImmersionRC PowerBox reduces cable mess and provides clean, redundant, distributed power. A built in video buffer ensures all connected devices receive a clean PAL/NTSC signal with correct video level specifications, giving you the clean video you expect.
See latest EzPowerBoxstuff
Fly With A Friend
Fly with a friend! The ImmersionRC PowerBox enables multiple sets of video goggles, DVRs, or LCD screens, to be run in parallel, from a single video source.
Video signals, unlike audio, require careful buffering in order to run several devices. The PowerBox contains the necessary video buffer circuitry to do this, while also supplying a clean, redundant, power supply to groundstation electronics.
 Twin redundant power inputs
 4 filtered power outputs, 1.5A per output maximum current draw
 Fused input, reverse polarity protection
 4 buffered A/V outputs
 Low-battery detect, on each redundant power input
Part of the ImmersionRC Groundstation used for FPV/Drone Race Events
Redundancy
Two batteries may be used to power the PowerBox, ensuring a continued supply of power if one of them develops a fault, or unexpectedly drains.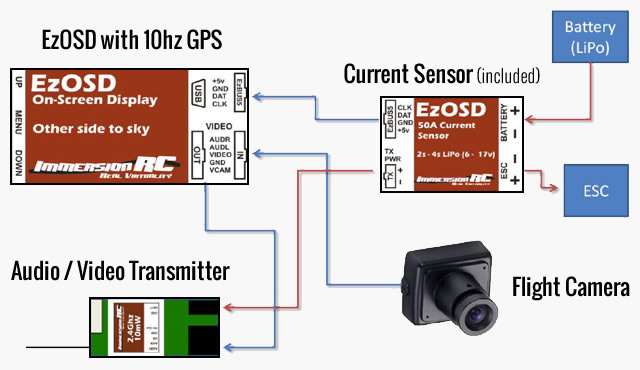 Essential for Race Events
The PowerBox has been used successfully at various FPV/Drone Race events to distribute each pilot's video feed.
The Pilot, spotter, judge, and a live feed can all be driven simultaneously from the ImmersionRC PowerBox.
The redundant power inputs can prevent race-stopping (and dangerous) events when the primary power source fails, allowing the race to continue.
SPECIFICATIONS & SUPPORT FILES
Essential Specs, User Manuals, Firmware & Downloads
Retail Price ($USD):
$49.95
Initial Release Date:
 Dec 2012
Dimensions:
L=85mm x W=70mm x H=25mm
Supply Voltage: 
6-13V
BETA FIRMWARE
(Unofficial – Full & final testing may not have been carried out on beta release firmware, use with caution!)
Share this product with your friends!