Since the start of Summer 2015, the ImmersionRC team has provided the support for video downlinks at some of the largest FPV Race Events.
To name just three:
– FPVRace28, in Chartres, France, with over 108 pilots racing over two days
– HobbyKing Weekender, in Domaine du Planet (CEMA), France, with ~50 pilots
– US Nationals, in Sacramento, California, with over 100 pilots
These video downlinks were based on ImmersionRC's 'RaceBand' channel set, using the following equipment on the groundstation:
– ImmersionRC Duo5800RE (RaceEdition) 5.8GHz Diversity Receivers
– ImmersionRC PowerBox video and power splitter
– ImmersionRC 5.8GHz 8dBi mini-patch (RHCP, and LCHP editions)
– FatShark BASE Goggles
In the air, 5.8GHz RaceBand transmitters were used, for the European events a 25mW license-free version, and for the US event a mix of 25mW (day 1), and 200mW (day 2) transmitters.
Installed on these transmitters were SpiroNET RHCP, and LCHP omnidirectional antennas.
To avoid something that racer's know as 'DIP Switch hell', RaceBand transmitters were supplied to racers for each event.
Clearly numbered transmitters, with antenna attached, were present on the pilot's seat, when arriving for a race. Two connectors hooked up, Tx attached via velcro to the back of the quad, and the runner takes the quad out to the start line.
When finished racing, the Tx is returned to the seat ready for the next pilot.
This technique allowed us to get a huge number of pilots through, with very little down-time while transmitter settings were changed.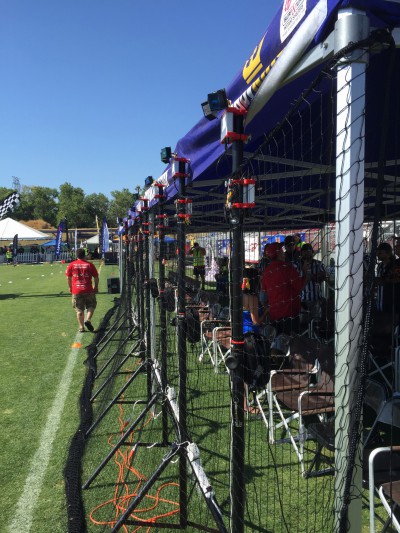 To facilitate the mounting of the various pieces of equipment on the tripods, the ImmersionRC team designed some 3d-printable parts, which can easily be printed at home, or sent out to a 3d printing supplier.
These files may be found here.
Personally we use K&M (Konig & Meyer) 21436 Speaker stands, with a 35mm tube. These will resist being pulled over fairly well, and are constructed from Alu for light weight.
Any 35mm speaker stand will do though.