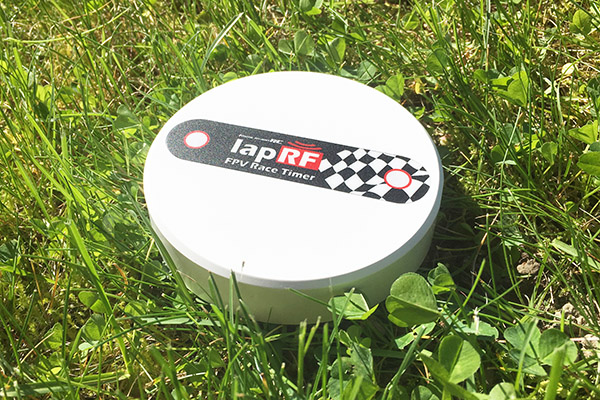 Easy To Use
It doesn't get much easier. Power on the LapRF, drop it in the start/finish gate,
select its ID in the free Android/iOS app, select the number of pilots, and video channels used, and start racing.
The LapRF will run all day, measuring lap times and speaking the results. There is no better tool to allow pilots to measure their performance, and work to improve it
No More Transponders!
The lapRF uses the Radio Frequency energy emitted by the Video Transmitter on the model to detect its presence within the race gate.
The current generation of racing drones have two things in common, they all use 5.8GHz video downlinks, and they all need to be on different channels to race together. This is all that the lapRF system needs to precisely time events.
No RFID transponders, no Infra-Red transponders, no complex installations. Just place the lapRF system in the start/finish gate, and start racing.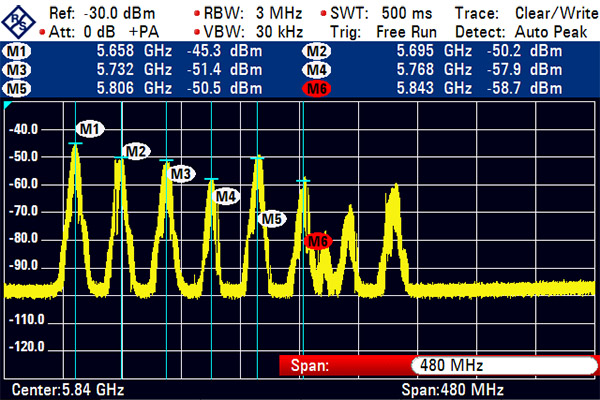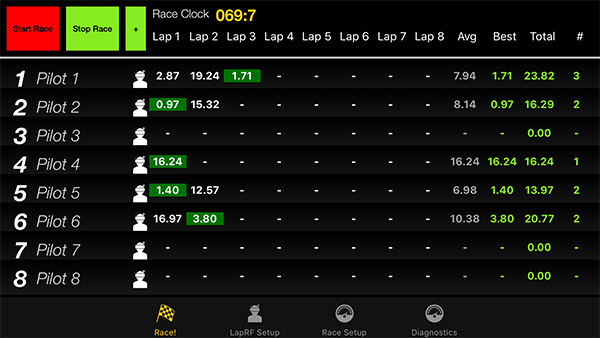 Bluetooth Link to Phones and Tablets
 The LapRF Personal Timing System includes a bluetooth module which can quickly link an iOS or Android device to the gate.
Enter pilot names, start the race, and the lap times will be spoken along with the pilot's name.
All lap times will be shown in a table, along with average, and best lap times.
Any loss of Bluetooth connection will

not

result in loss of lap times. When Bluetooth is reconnected, all missed lap times will be transferred to the app. 
iOS downloadable from here, and Android app from here.
Personal… but Sharable
 The LapRF Personal Timer was designed to be used by one pilot, that is where it is the most precise. But if you want to invite a few friends along for a quick race around the park, we support that too, out of the box.
No need to figure out how to interface your mates timers together, or run multiple apps, just share yours.
Timing resolution (which is more than enough with one pilot) decreases as you add more pilots, but when you start with more than enough, and share, you end up with just enough 🙂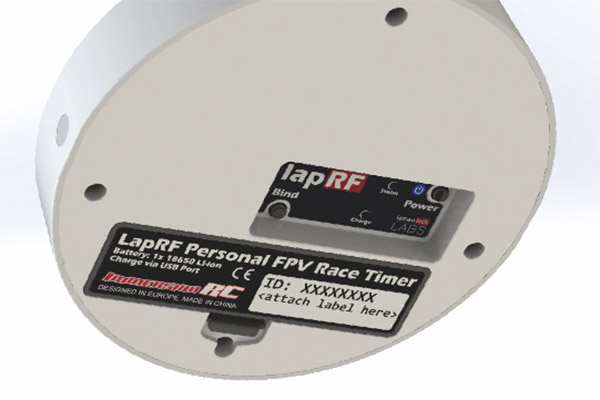 Integrated 2600mAh Battery
Integrating a high capacity, but common 18650 battery (available from vape shops worldwide) the LapRF doesn't need an external power supply.
To allow quick in-the-field replacements, we included a handy battery door in the bottom of the unit, minimizing down time during battery changes.
When it is time to recharge the battery, the integrated charger just requires a USB hookup, no need to remove the battery.
Custom Timing Receivers
Instead of using a standard receiver module in the timing system, ImmersionRC's hardware engineering team designed a custom module, which can be calibrated on-the-fly to adapt to the different power levels found in races.
Sensitive enough to detect passing quads, but selective enough to ignore adjacent channel interference. Heavily filtered to ignore off-band interference common at race events.
To top it all off, we designed custom antennas with gate-shaped beams which let you precisely define the detection area of the timing system (something that competitive units sorely lack). These antennas are designed for RHCP/LHCP, and Linear polarization, covering everything that will be seen at a race event.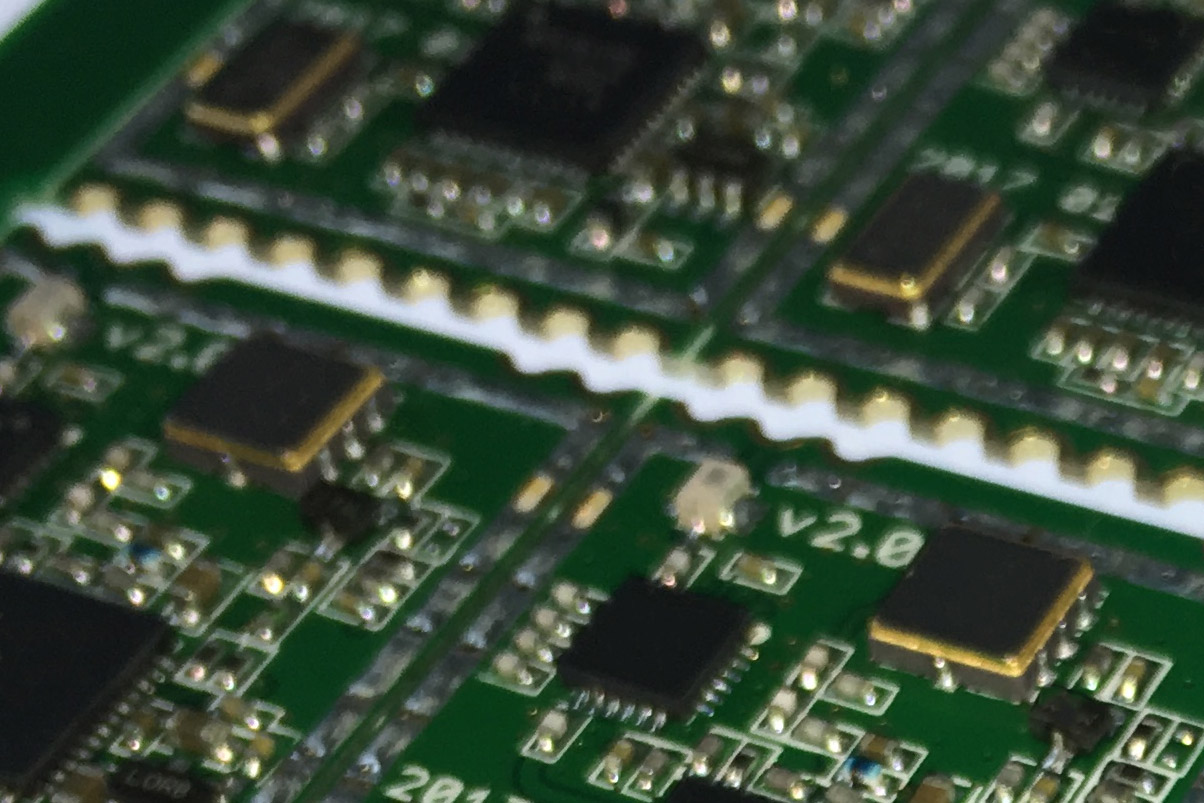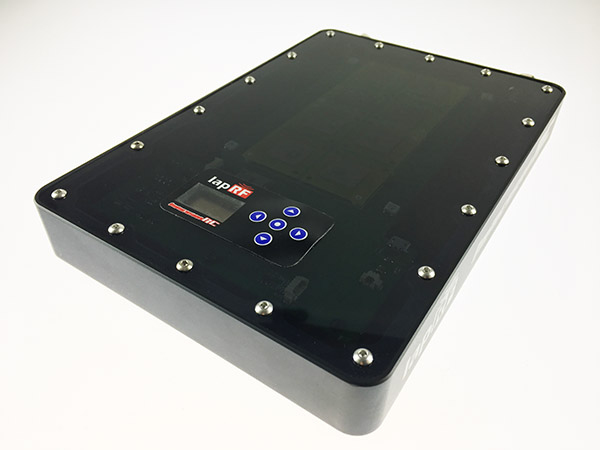 Ethernet Interface (8-Way Event Version)
The high-end version of the lapRF, the Event timing system (which will be announced in more detail shortly), includes an Ethernet port to allow direct cabling of the timing system into race management systems.
Evaluated for > 6 months by none other than Joe Scully, the best race commentator in the business, and used for the vast majority of his events. Joe's feedback was instrumental in ensuring that this timing system meets the needs of FPV race organizers.
(And of course, IP67 waterproof, passively cooled, with no fans to suck in stray vegetation, commonly found at FPV race courses)
LiveTime Integration
The ImmersionRC LapRF Race Timing Systems are both supported by the industry-leading LiveTime Scoring Engine.
Full integration of the personal system via USB, or the event system via Ethernet, including full auto-calibration of the timing system, and even a built-in Spectrum Analyzer to analyze event background noise.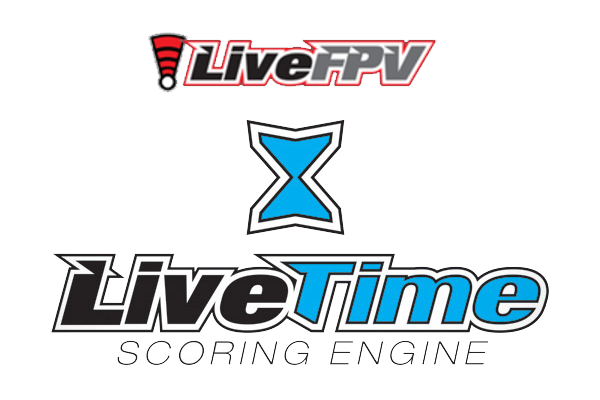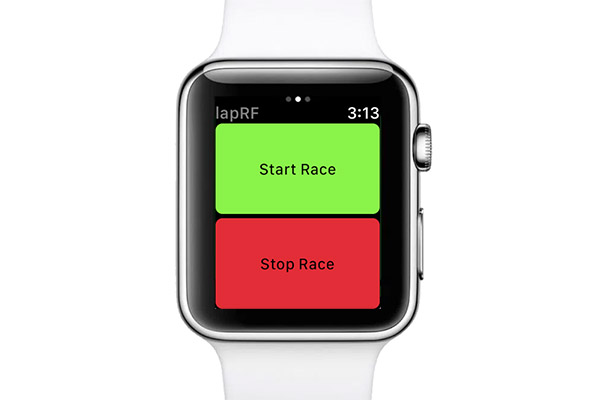 Hands-Free Control from Apple Watch
This is a little feature that sounds like a gimmick, but in practice works quite well.
Your race is configured, your fellow pilots are ready to race, goggles down, and now you need to take your phone/tablet from your pocket to hit the start button.
Nope, just reach to your wrist, hit the start button, and wait for the adrenaline buildup that accompanies most race starts.
Of course, as an added bonus, this
doubles your bluetooth range

!. Just leave your phone/tablet within range of the timing system, and use your watch to remotely control it from up to 100m away.
Pimp your Puck!
During development, we referred to the lapRF personal edition as the 'Timing Puck' (its resemblance to a hockey puck apparently had something to do with that)
Pimping your Puck therefore seems an appropriate way to refer to customizing your timing puck, making it stand out from the crowd,
in the same way that our Vortex community loves to pimp their quads
Several 'pimp kits' will be offered soon after product release, in colors defined by the community.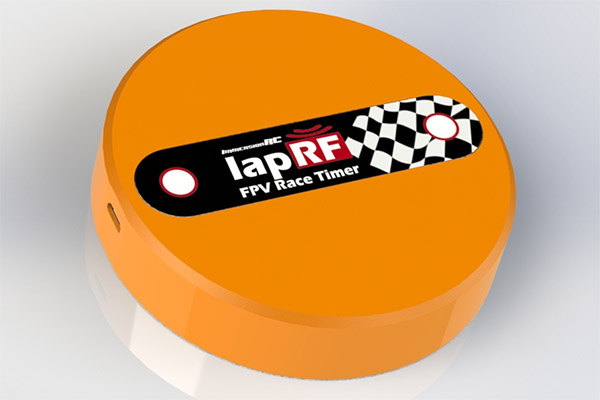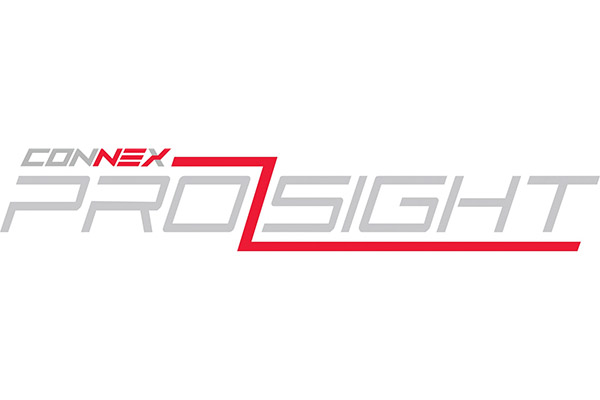 Connex ProSight Compatible
The LapRF is just as comfortable in the digital world as analog. Many successful mixed Analog and Digital races have been run by race director Joe Scully with a great deal of success.
NOTE: Prosight units must be placed in fixed-frequency mode in order to connect pilots and channels.
External BT Antenna for More Range
A sleek internal Bluetooth antenna gives more range than most pilots need.
For extra range, the LapRF casing has the ability to use a standard U.FL to SMA cable,
and 2.4GHz antenna (not included, but easy to source).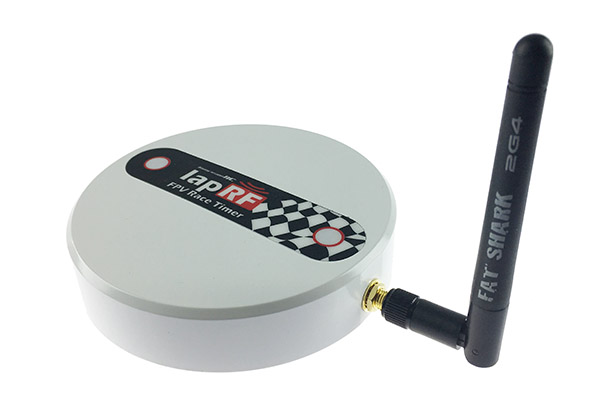 SPECIFICATIONS & SUPPORT FILES
Essential Specs, User Manuals, Firmware & Downloads
Initial Release Date:
 June 2017
Price:
 99.99 USD Retail
Dimensions:
L=100mm x W=100mm x H=25mm
Weight:
 121g (with battery)
Channels:
 All common (+ some rare) Analog + Digital 5.8GHz
Antenna:
 Custom RHCP/LHCP/Linear
RF Connector:
 U.FL
Pilots:
 1 to 8, depending upon required precision and gate speed
Battery:
 18650, 2600mAh, 3.7V Nominal
Bluetooth:
 BLE, Bluetooth Smart
BT Range:
Approx. 100ft with internal antenna
BT Antenna:
Internal FCC/CE/CTick, with External option
App Support:
 iOS and Android
Ports:
Wireless Bluetooth, and Wired USB
PC Software: 
 Livetime FPV (Beta early July 2017)
License: 
 Perpetual, nothing to install, ever
A more up to date 'live' version of the manual, with daily (sometimes hourly) changes may be found here.
Share this product with your friends!