For Those Who Push The Limits
The ImmersionRC 13dBi SpiroNET Patch has been the antenna of choice for pilots who like to push the limits since 2013. The Long Range Kit combines two of them in custom goggle mount, with custom cables to hook up to a rapidFIRE receiver.
The twin-antenna array, when coupled with a rapidFIRE receiver provides all of the rapidFIRE multi-pathing elimination benefits at extreme range.
5.8GHz Band, Twin 13dBi gain
~70 degree -3dB Horiz Beam Width, 35 Vert
F/B Ratio > 35dB, VSWR < 1:1.35 @ Center Freq.
Right Hand Circular Polarization
Carbon Fiber FatShark Dominator Goggle Mount
Thumb Screw Quick Release
Two included 8GHz RG402 cables
 10km+ (easy) on 5.8GHz
Don't Cross The Beams!

No ghosts to catch here, overlapping beams ensure that a quad at long range is easy to track, without a complex antenna tracker.
rapidFIRE's twin RSSI display makes it trivial to locate a distant quad/plane. When the RSSI bars are equal, the antenna array is aligned exactly with the model. Much easier than trying to peak the RSSI measurement with a single antenna solution.
The wide 70 degree horizontal beam-width ensures that even when the array is not perfectly aligned with the model, reception is guaranteed.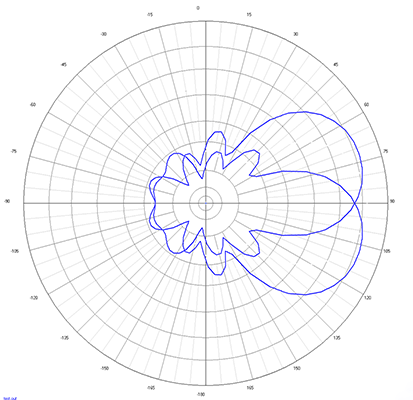 Carbon, Alu, Titanium, and Steel

A milled carbon-fiber plate is mounted under the Dominator fan-plate cover. Two tool-free thumbscrews attach the formed aluminium mount to the goggles.
Four M3 screws mount the twin LZR 13dBi antennas to the aluminium mount, and hook up the two supplied semi-rigid high-frequency cables.
rapidFIRE Integration

The twin RSSI bars (especially the full-width version) may be used to aim the antenna.
An upcoming firmware update (v1.3.0) will augment this with a unique audible feedback, allowing a long-range pilot to keep eyes on the target, and not the OSD.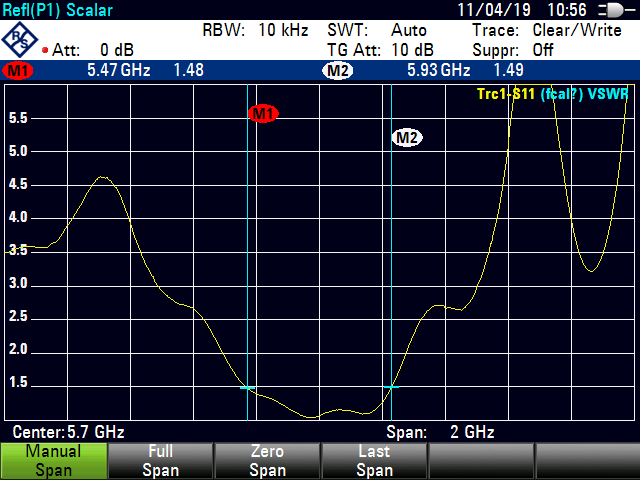 Wide bandwidth

Wide 5.47-5.93GHz bandwidth (< 1.5:1) covers all RaceBand channels (plus a little extra).
Compatible with all 13dBi SpiroNETs
Back in 2013 when we released the first version of the 13dBi SpiroNET Patch antennas, we included mounting points for future bracket designs. These are the same on the latest version of the patch.
If you own these older versions of the patch (LHCP, or RHCP versions), they are completely compatible with the new mounting brackets.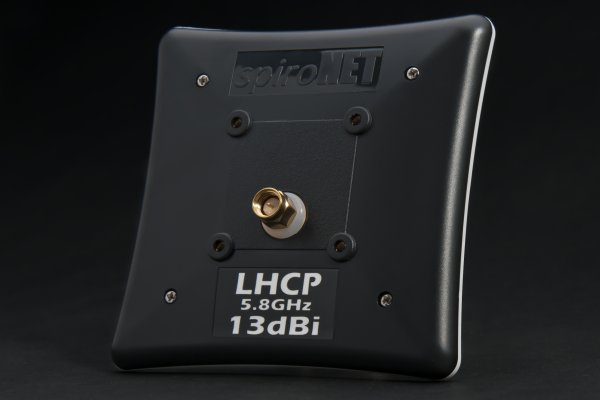 SPECIFICATIONS & SUPPORT FILES
Essential Specs, User Manuals, Firmware & Downloads
Retail Price, Mounting kit + Cables ($USD):
$29 USD (SNLZRLRK)
Retail Price, Antennas (each) ($USD): $24.99 (SN5G8RHLZR13)
Frequency: 
5.8GHz Band
Beam: 
35 degrees (H+V) each antenna, ~70 degree H, 35 degree V for the array
F/B Ratio: 
> 35dB
VSWR: 
< 1:1.35 @ Center freq.
Impedance: 
50 ohms
BETA FIRMWARE

(Unofficial – Full & final testing may not have been carried out on beta release firmware, use with caution!)
Share this product with your friends!