Start with the best ARF Race Quad, Listen, and Improve it
The Vortex 285 (the first in the Vortex family) has experienced incredible success, and has changed the Race Quad market.
The Vortex 250 Pro is the result of listening to our top pilots, taking the product to a new level, with the same level of integration as it's big brother.
$479 USD (ARF, foam packaging), $499 USD (zipper case)
 250-sized Race-Quad
 State-of-the-art 'F3' FC processor
 2nd Generation 20A EzESCs, with custom 2204-2300kV motors
 Built in black-box recorder (2MB)
Rigid 4mm Carbon Fibre arms (non-foldable)
 Direct connection to PPM, Spektrum, S-Bus, XBus receivers
Ear-piercing Lost Model Alarm (much louder than it's predecessor)
 GoPro-3/4 mount included
Revolutionary… Again!
Building off of the success of the Vortex 285, and listening to the dreams and wishes of our customers, the ImmersionRC team designed the Vortex 250 Pro, a purebred racer which ticks all of the boxes.
We swapped out the 'F1' processor for the 'F3', added an integrated Black Box recorder, swapped out the 1806 motors for potent 2204/2300kV custom motors, Gen2 20A ESCs, Serial receiver support… the list is long and colorful.
As with the Vortex 285, the 250 is ARF, just add a compatible R/C Rx (CPPM, Spektrum, S-Bus, XBus, EzUHF, etc. etc.), and a battery, and go race, everything else is included, from the SpiroNET Tx antenna, to the props.
NOTE: Compatible receiver and display device required for initial setup and during use, items not included.
$479 USD ARF (2204-2300 Race Motors)
 2204-2300kV Custom Motors, with custom 20A ESCs
250-sized Mini-Quad with 4mm CF arms
Beautiful 3k Twill-weave Carbon Fiber and custom injected plastic design
 Integrated 'F3' Flight Controller, pre-loaded with Cleanflight
 Integrated full-graphic OSD, with on-screen control of.. everything
On-board BlackBox recorder to aid in pro-tuning
 Integrated 40 channel NexWaveRF 5.8GHz Video Tx with Dynamic Power Control
Race-tuned out of the box, with Pro-tuning options
Tiltable, Vibration-free Camera mount
GoPro (3/4)  mount included
Pure-bred Racer
The Vortex 285's foldable tubular arms are replaced with virtually unbreakable 4mm Carbon Fiber flat arms, with twelve M3 aluminium spacers wrapped in custom plastic.
The frame is designed to hit objects which don't like to move out of the way, and survive to fly again in the next race.
The 2mm Carbon Fiber top-plate is designed to take some serious abuse, backed up by 2mm FR4 skid plates which survive scraping across the occasional parking-lot floor.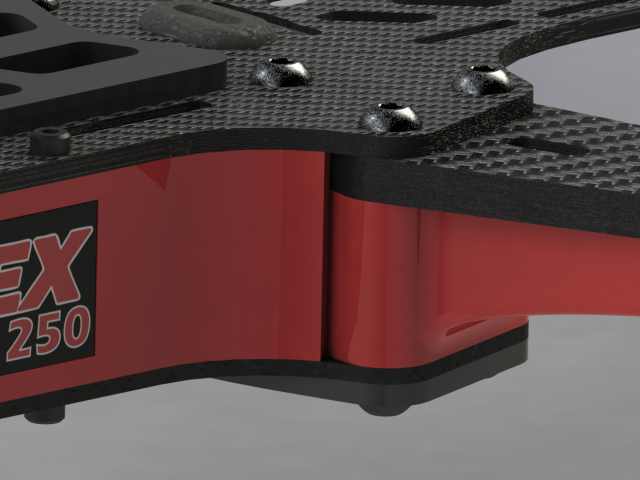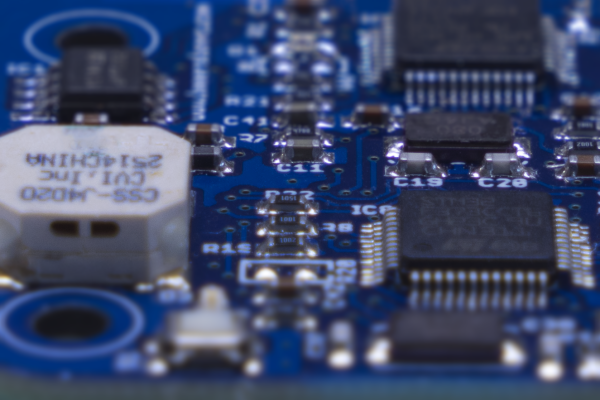 Fusion Gen2 Flight Controller
The ImmersionRC Fusion, a highly integrated state-of-the-art flight controller, gets an extensive update for the Vortex 250.
The 'F1' class processor is updated to an F3, flash memory for BlackBox log storage is integrated, the buzzer is replaced with one MUCH louder, and a port is added for direct serial receiver hookup (5V and 3.3v supply options).
As for the Fusion Gen1, the Gen2 is pre-loaded with a custom build of CleanFlight, and is future-proof, supporting future updates.
The high performance 'F3' processor provides > 2x the performance of it's predecessor, allowing lower loop times, and better flight performance.
PIDs are adjusted on-screen, in easy-to-use menus, driven directly from the R/C Tx.
Integrated 5.8GHz Video Tx with RaceBand
An on-board NexWaveRF 5.8GHz video transmitter, with 40 channel support, ensures compatibility with any 5.8Ghz A/V Rx on the market.
New for the Vortex 250, is Dynamic Power Control. Transmitter power is lowered automatically when the quad is disarmed, or ready for a race to start, to reduce interference to other pilots.
ImmersionRC's exclusive
RaceBand

allows 8 pilots to fly together, while being 100% legal for US resellers to distribute. All channels fall within the legal US Ham band.
The on-board OSD allows video transmitter channels to be chosen using the R/C transmitter, no more dip-switches to flip, and no more frequency lists to remember.
Full compatibility with all ImmersionRC/FatShark, Boscam, Team Black-Sheep, DJI, and ImmersionRC RaceBand channels.
NOTE: US Resellers may lock domestic shipments to avoid channels outside the legal Ham band.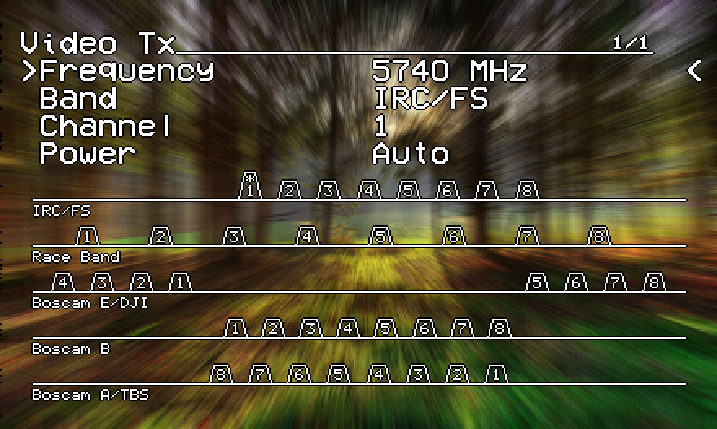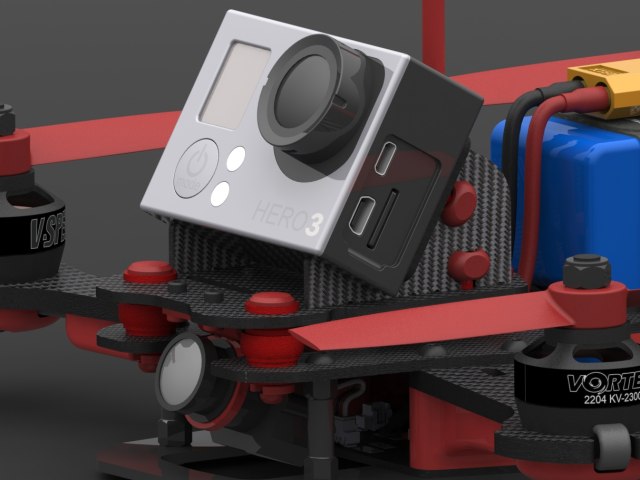 Flexible Camera Options
The flexible Vortex camera mount supports both a flight cam, and an HD camera such as a GoPro. This mount is included in the box with the Vortex 250, and doesn't require the purchase of an add-on product.
The flight cam is protected from impacts, and is suspended from a vibration-dampened carbon-fibre plate. An adjustable bracket allows the camera to be tilted to ensure a good forward view during high-speed racing.
As the icing on the cake, a monster 3A switching regulator allows any HD cam (GoPro included) to be powered from the flight pack, allowing unnecessary camera batteries to be left at home.
Pro-Tuner, In The Box
The Vortex 250 continues in the footsteps of it's Vortex 285 big-brother, and not only ships with a pro-tune that flies like it is on rails, but adds a selection of pro-tunes created by some of the experts in the hobby.
Some of the biggest names in FPV Quad Racing have abused countless LiPos tuning the Vortex for peak performance, and have produced some stunning videos in the process.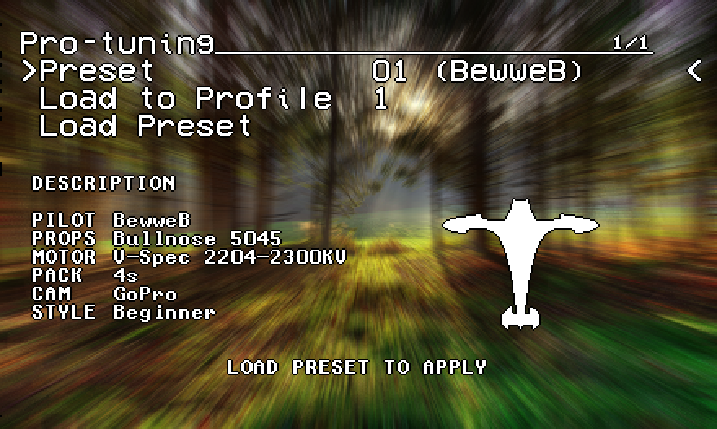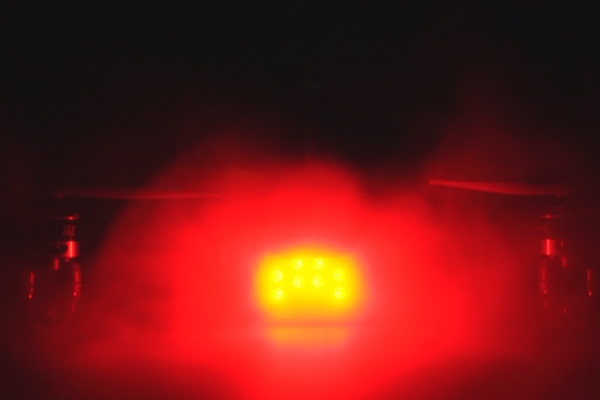 Lights!, Music!, Action!!!
Ok, there is no music, we'll leave that to the post-processing, but there are lights, and plenty of action!
A set of 8 24-bit RGB LEDs sit on the tail of the Vortex, sandwiched safely between the upper, and lower frame plates.
These LEDs, controlled by a dedicated 32-bit ARM processor (yeah… what were we thinking!), can show something as mundane as the pilot's favourite color, just about anything else we decide to roll into the user-upgradable firmware.
Brake lights?, Shift to white for max. acceleration?, Indicators for polite left/right turns?, or just a pattern to remind you of 80's Discos.
Since Airgonay's now-famous 'Star Wars' video, rear lights on miniquads have become not a 'nice to have', but a 'no fun without 'em'.
'Gen2' Custom 32-bit, 20A ESCs, with OneShot125
Custom 20A ESCs (22A Peak), with OneShot125, and regenerative braking, for crisp-responsive flight using CleanFlight. A 32-bit ARM processor runs each ESC, ensuring plenty of processing power to drive even the most fussy brushless motors.
The second generation of ImmersionRC's 'EzESC', with race-proven reliability, and the extra punch required to spin the 2204/2300kV motors.
These ESCs also support our innovative rotorSENSE, which programs prop direction with the flick of a finger. No more swapping motor wires.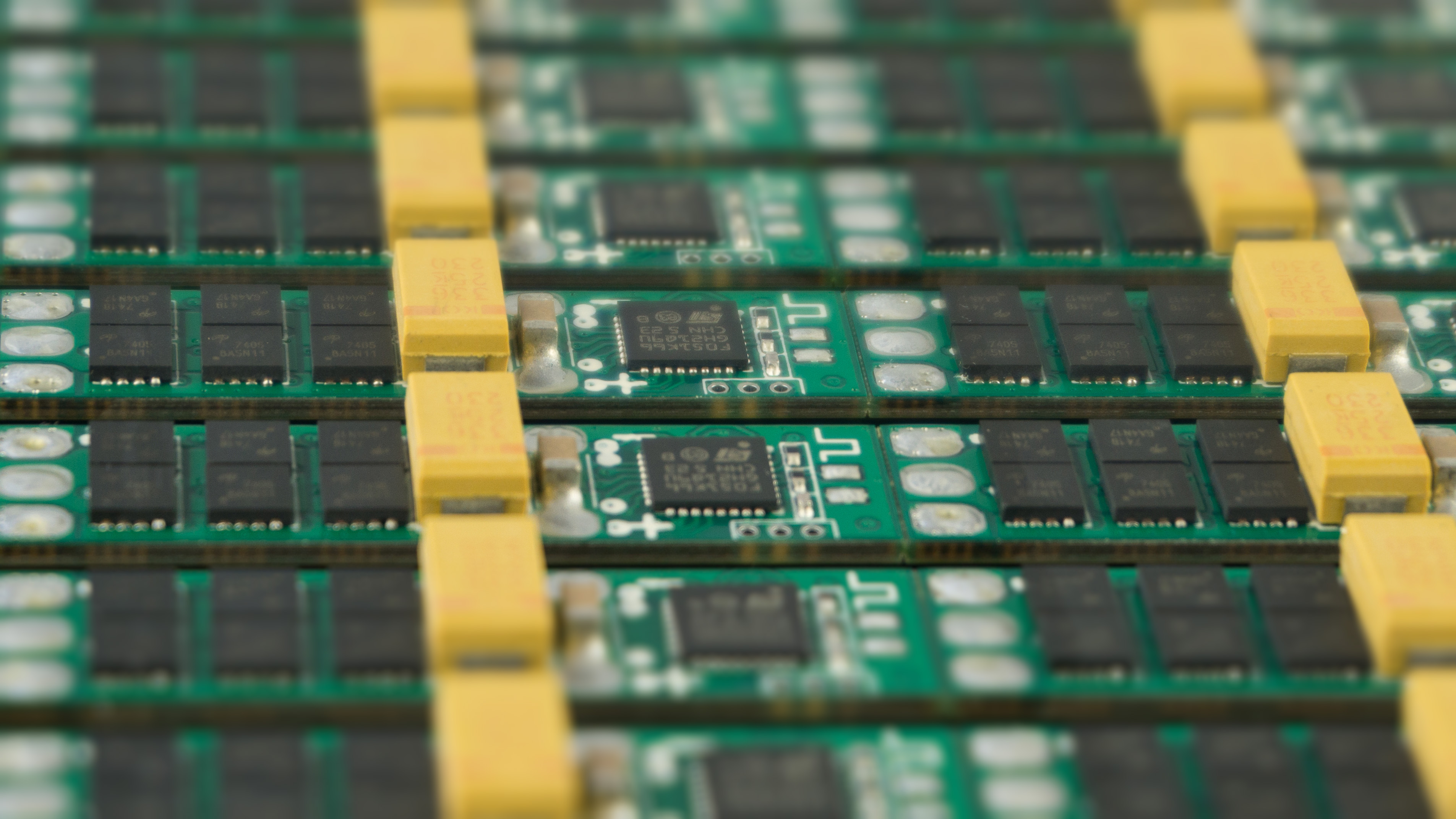 Blackbox Recorder
Blackbox is a high speed recorder for flight controller data, which is stored in an integrated flash memory on the Vortex 250's Fusion Gen2 board.
This extremely powerful tool can be used to tweak your PIDs to perfection with your choise of props, battery, and camera.
Full Graphic OSD, with EzOSD pedigree
An on-board full-graphic OSD provides in-flight updates of critical parameters, and sports a menu which allows all options to be programmed in the field using the R/C Tx, and a set of goggles, or an LCD screen.
A real-time interface with the flight controller enables artificial horizons, F-18 style displays, and exchange of flight parameters.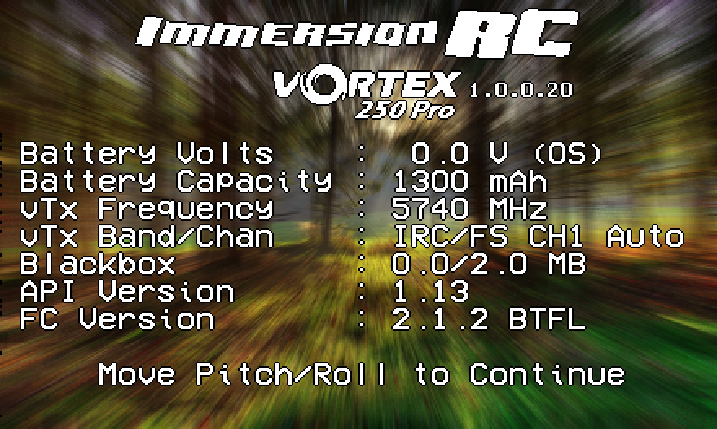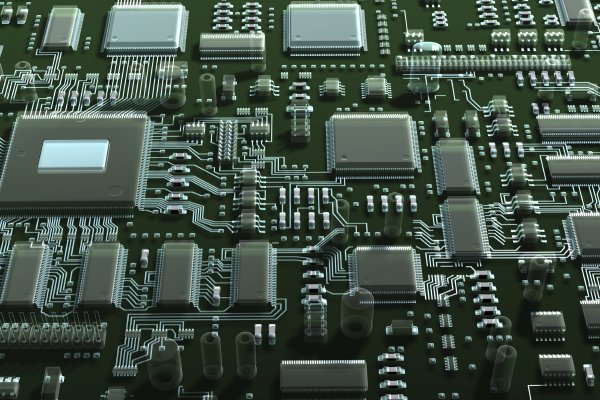 Seven! 32-bit ARM processors
There are not many quads out there with that claim to fame… the Vortex 250, like its 285 big-brother, sports no less than seven 32-bit ARM processors, all working together for maximum fun-factor.
A dedicated ARM for the flight controller, another for the full-graphic OSD, even another for the LED board at the back of the quad, and then four high performance ARMs for the custom ESCs.
Custom OSD Layouts
Several OSD layouts are included in the package:
A classical EzOSD-type layout, with all critical parameters available on-screen.
A Heads-Up display which would be more at home in a fighter-jet, with artificial horizon and altitude indicator.
A Race layout, with just the critical parameters, tucked around the edges of the display.
A Gaming layout… we'll explain that one just before launch
All OSD layouts include screen-center alerts for critical warnings, such as battery voltage, EzUHF Link Critical, etc.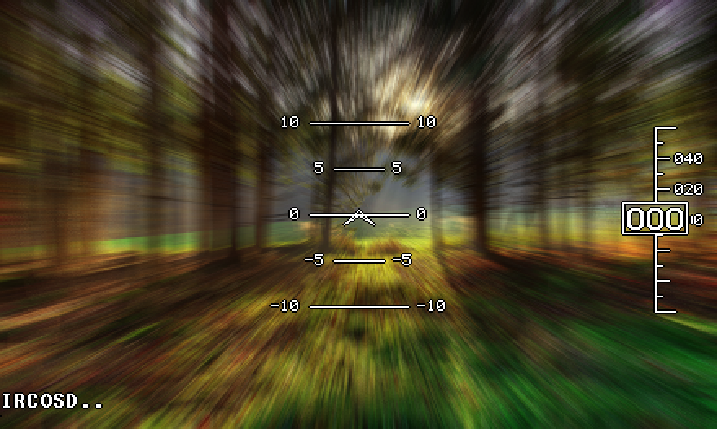 Physical meets Virtual
With the recent introduction of our Liftoff FPV Racing Simulator, ImmersionRC air frames may be simulated in the digital world.
The 250 Pro will join it's 285 big brother shortly after launch.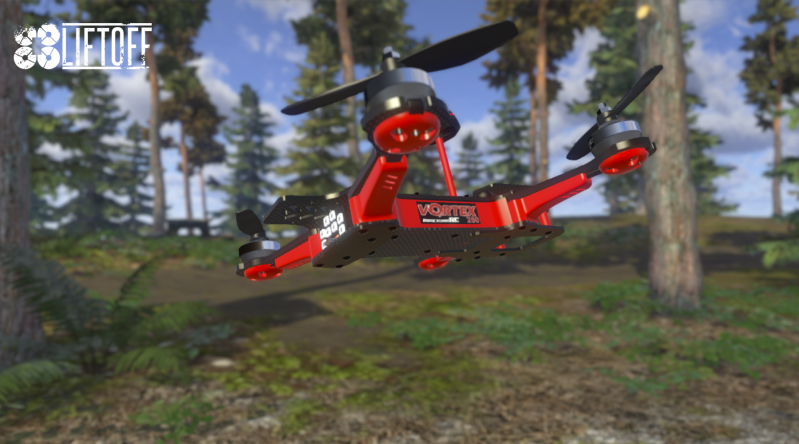 Vortex 285 vs. 250 Pro Comparison
The Vortex 285, and the new 250-Pro are quite different quads. The 285 has the advantage of foldability, making it ideal for transport, and building into compact flight-cases.
The 250 Pro has the advantage of a more powerful processor, higher-current ESCs, and some larger (and heavier) motors.
| Model | Vortex 285 | Vortex 250-Pro |
| --- | --- | --- |
| Size (diagonal) | 285mm | 250mm (275mm option for 6" Props) |
| Frame | 1.5mm CF, with plastic standoffs | 2mm CF, with 15x Aluminium Standoffs |
| Motors | OEM 1806-2300kV, 2mm Shaft | Custom 2204-2300kV, 3mm Shaft |
| ESC | 12/16A EzESC | 20/22A EzESC |
| ESC Features | OneShot125, rotorSENSE | OneShot125, rotorSENSE |
| Flight Controller | STM32F103 based ('F1') | STM32F303 based ('F3') |
| OSD | Full Graphic | Full Graphic |
| Arms | Tubular CF, Foldable | 4mm Flat CF |
| BlackBox | - | 2MB Included |
| Rx Support | Native CPPM (SBus, Spektrum with adapter cables) | Native CPPM, S-Bus, Spektrum, XBus, SumD, SumH |
| Rx Selection | Manual (via IRC Tools) | Fully Automatic |
| Case | Optional | Foam or Zipper case options at order time |
| Camera Mount | Optional | GoPro 3/4, mount included |
| USB Port | Surface Mounted | Through-Hole (Much more robust) |
| LED Board | v1 | v2, more robust |
| Lost Model Beeper | Yes | Yes... MUCH louder |
| Standoffs | Plastic | Metal (all of them) |
| FlightCam | 600/700TVL CMOS | 700TVL CMOS v2 |
| Weight | ~350g without battery | ~415g without battery |
SPECIFICATIONS & SUPPORT FILES
Essential Specs, User Manuals, Firmware & Downloads
Retail Price ($USD):
$479.00 (foam packaging), $499 (zipper case)
Initial Release Date:
 November 2015 
Weight: 
~415g without battery, or HD camera
Power Requirements:
3s-4s LiPo (typical)
ESCs: 
Full Custom, 20A cont. 22A peak, rotorSENSE, OneShot125
Motors: 
Custom V-Spec 2204-2300kV, with 3mm axles, 5mm shafts
Props: 
OEM Gemfan 5045 GF Blunt-Nose
Flight Camera: 
FatShark 700TVL v2 CMOS (included)
HD Camera:
 GoPro Hero, Hero 3/4
Receiver Compatibility:
CPPM, S-Bus, Spektrum™, XBus, SumH, SumD (no external adapters required) (Auto-Sense!)
Flight Time: 
Highly dependent upon battery, and flying style
Note: Compatible receiver and display device required for initial setup and use, not included.
The Vortex 250 Pro Getting Started Guide is available here.
The Vortex 250 Pro Manual is available here, as a 'Living Manual'.
A manual for the lightweight Race Kit is available here.
BETA FIRMWARE
(Unofficial – Full & final testing may not have been carried out on beta release firmware, use with caution!)
Share this product with your friends!