RF Power Meter – Affordable Power Measurements
Sensitive and precise. The RF Power Meter takes the guesswork out of uplink and downlink power and antenna measurements. Calibrated on all bands used in RC modeling, from 35MHz through 5.8GHz
See latest RFPowerMeter stuff
Transmitter Testing
The '600mW' transmitter installed on your FPV/UAV system, what does it really emit? The '2dBi Omni, coupled to it, does it really work as specified? These kinds of questions are often considered when theoretical range calculations don't match reality, but answering these questions can be expensive.
 Affordable RF power measurements, a fraction of the cost of similar equipment
 Measure pulsed, and continuous RF power levels (e.g. UHF, and A/V Downlinks)
 Calibrated on all common bands used for modelling, and especially FPV
 50dB of dynamic range (-50dBm -> 0dBm without the external attenuator)
 Readout in mW, or dBm
USB port for future upgrades
 Check the output power of racing quads for compliance before an event.
Included Accessories
The supplied semi-rigid male-male SMA cable may be used for in-system testing, without removing equipment from your model.
A 30dB attenuator is also included, to bring the power of most FPV transmitters down to within the range of the power meter.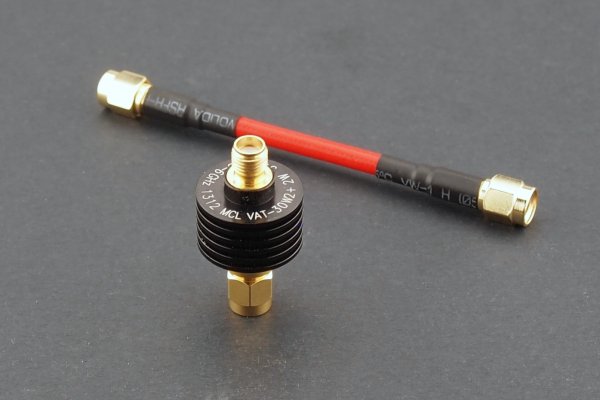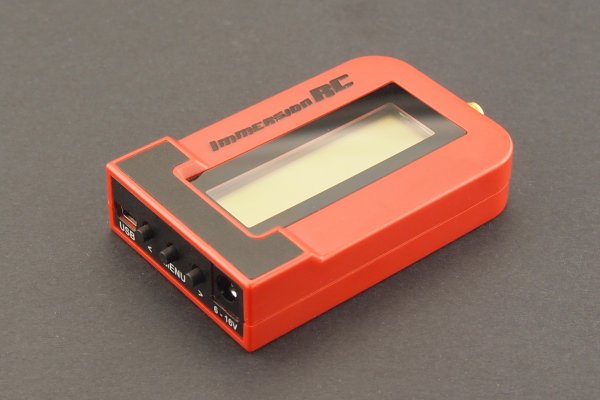 System Testing
Install in place of your A/V receiver, with the transmitter at fairly close range, and measure the power level that your receiver will see. This includes the Transmitter power level, connector losses, transmitter antenna gain, free space losses, and receiver antenna gain. Testing with a system on the ground is much safer than testing while airborne.
Antenna Testing
Comparisons between antennas are simple with the power meter. Place a transmitter nearby, attach the antenna to be tested to the power meter, note the reading, and switch to the second antenna.
For directional antennas, connect the antenna to the power meter, and rotate it through each axis. Plot the measurements and the radiation pattern of the antenna is created.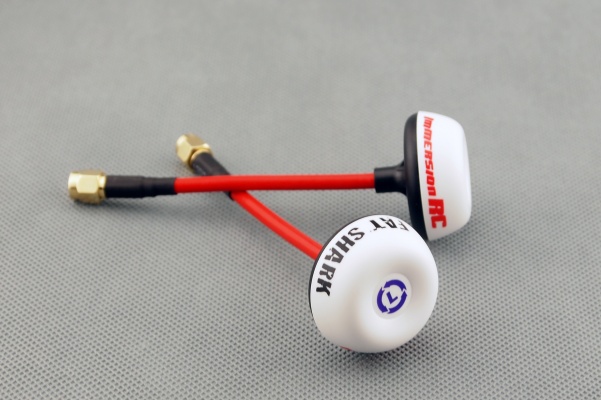 Pre-Race Compliance Testing
The RF Power Meter is ideal for testing the power output of a video transmitter before an FPV/Drone Race. Especially important for races which require a 25mW maximum output power, as is becoming the norm these days.
SPECIFICATIONS & SUPPORT FILES
Essential Specs, User Manuals, Firmware & Downloads
Retail Price ($USD):
$149.00
Initial Release Date:
Nov 2013
Frequency Range:
1MHz -> 8GHz
Power Range:
-50dBm thru 0dBm w/o Attenuator
Un-attenuated VSWR:
<1.5:1 below 1GHz, <1.7:1 1GHz -> 8GHz. 
Attenuated VSWR:
<1.05:1 below 1GHz, <1.5:1 1GHz -> 8GHz (typical)
Connector:
SMA Female
Input Impedance:
50 ohms
Length:
90mm
Width:
52mm
Height:
19mm
Weight: 
40g
Power Requirements:
6v – 16v DC
Power Consumption:
~100mA
BETA FIRMWARE
(Unofficial – Full & final testing may not have been carried out on beta release firmware, use with caution!)
Share this product with your friends!